The WB cartoons have done some parodoys of video games.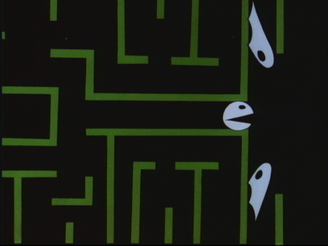 In the episode Gang Busters when
Buster Bunny
&
Plucky Duck
are in the dungion they pass the time to play Pong with their eyeballs. They also play the game Pac-Man for a few seconds.
In the episode K-ACME TV halfway through this episode, a fake commercial plays, advertising "the brand new hit video game, Super Plucky-o Bros.!" a parody of Super Mario Bros. The game parody features Plucky-o and his brother Linguini (two Plucky Ducks) being guided through Fungoworld, where they must rescue Princess Loon (Shirley the Loon) from the Toadstool Tower by picking a magic kumquat from a tree. Linguini tries to do so, but is then chased away from said tree by the Dizzy Doofus (Dizzy Devil), and then Pluckyo eludes various enemies larger than himself, until finally he finds "The Giant Nyah Nyah of Power" (a magic egg) that turns him into an invincible giant who defeats the enemies and plucks Loon from the tower. The game then ends, and we find Plucky playing it in an arcade. "It's more than a game, it's an obsession!" he says, right before a set of false teeth come out of the game and begin chasing him around as the segment ends.
In Buster & Babs go to Hawiwi Montana Max plays a spoof game on Pac-Man called Plane-Man.
Ad blocker interference detected!
Wikia is a free-to-use site that makes money from advertising. We have a modified experience for viewers using ad blockers

Wikia is not accessible if you've made further modifications. Remove the custom ad blocker rule(s) and the page will load as expected.