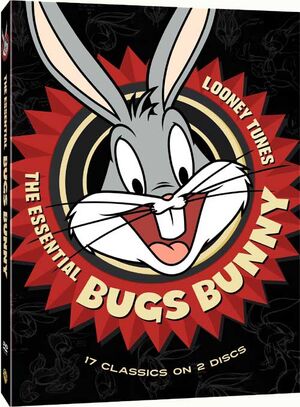 The Essential Bugs Bunny is a 2-disc DVD set of Looney Tunes shorts starring Bugs Bunny, to be released October 12, 2010.
Background information
From TVShowsOnDVD.com:
Late this past March we passed along lots of info about upcoming Looney Tunes DVD plans, courtesy of interviews given out by animation expert Jerry Beck. Our friend Jerry is a consultant with Warner Home Video on these and other classic cartoons (and not just for Warner, either, we might add!). In our write-up, we told you about info Beck gave to Scott Katz at USTownHall.com, in which an upcoming DVD release was described as collecting the the leading Bugs Bunny cartoons together into a single multi-disc release. Here's how Beck described the planned set: "The contents are going to be pretty much the classic Bugs Bunny cartoons that YOU SHOULD HAVE...If you're going to have a Bugs Bunny collection...the bona fide Bugs Bunny cartoons".
Today Warner Home Video formally announced this item, christening it with the title of Looney Tunes: The Essential Bugs Bunny. Available starting October 12th, this 2-DVD set will include 17 classic cartoons, with three of them never before released on DVD. Warner describes it as "The Definitive Collection of Bugs Bunny's Entire Career - A Must Have for Animation Lovers". In addition you'll also get over an hour of special features, including the original uncut version of Invasion of the Bunny Snatchers. Moreover, one of the extras is a Brand-New Featurette: "Ain't He a Stinker?", a mini-documentary of Bugs Bunny's vast career.
On the first disc you'll find the main "Bugs Bunny Essentials", featuring "12 absolutely, positively, ultra-essentially career-building cartoons". And on the second disc you'll dive into the "Bugs Bunny Vault", where you will find "choice TV specials, shorts, rare appearances, plus the debut of the 2010 career profile 'Bugs Bunny: Ain't He a Stinker?' " The running time is 210 minutes, the release includes subtitles, and the cost is $26.99 SRP. No Blu-ray version has been mentioned with today's announcement, but there's clearly room for Warner to go that way in the future with such a release.
Featured cartoons
Disc 1:
Disc 2:
See also