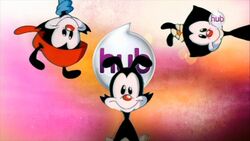 The Hub Network (originally named The Hub until September 2013) was an American digital cable and satellite television channel that ran from October 10, 2010 to October 12, 2014. The channel, which replaced Discovery Kids, was a joint venture of Discovery Communications, Inc. and Hasbro. It targeted a dual audience, young children in the daytime with children's programs, and families at night with sitcoms, dramas and feature films. While much of its programming consisted of acquired reruns of children's programming and sitcoms, it was also known for its original programs such as Transformers: Prime, Dan Vs., and most notably, My Little Pony: Friendship is Magic.
In November 2012, Wakko's Wish began airing on The Hub's Family Movie program. The Hub later announced that they would be airing reruns of Animaniacs, starting with a four-hour marathon on December 24th and the show officially joining the network's line-up on January 7, 2013. This was followed up with Tiny Toon Adventures joining the line-up on July 1st of the same year. Tiny Toon Adventures: How I Spent My Vacation, Space Jam, and Looney Tunes: Back in Action also aired as Hub Family Movies in the time since then. The Hub also aired the two prime-time Tiny Toons specials, Night Ghoulery, and Spring Break, the latter of which had not been aired since its original Fox Kids broadcast.
In promotional spots advertising Animaniacs being aired on the network, Rob Paulsen, Tress MacNeille, and Jess Harnell reprised their roles as the Warners, with Maurice LaMarche reprising the role of the Brain in promos for a Labor Day marathon. Joe Alaskey also reprised the voice of Plucky Duck in promos for Tiny Toons, notably marking his final performance as the character.
In September 2014, it was announced that Hasbro would end its partnership with Discovery Communications, and as a result, the Hub Network was replaced by Discovery Family on October 13th. Shortly after the network's relaunch as Discovery Family, Animaniacs was removed from the line-up, but Tiny Toons continued to air on the channel until the summer of 2015.
External links