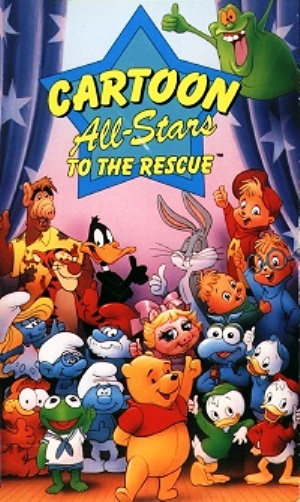 Cartoon All-Stars to the Rescue was a half-hour animated television special aired simultaneously on NBC, CBS and ABC on April 22, 1990. This special brought together a number of famous cartoon characters, representative of the line-ups of all three networks, as well as syndication -- Bugs Bunny and Daffy Duck (The Bugs Bunny and Tweety Show), Winnie the Pooh and Tigger (The New Adventures of Winnie the Pooh), and Slimer (The Real Ghostbusters) (ABC); the Muppet Babies and Garfield (CBS); ALF, The Chipmunks, and The Smurfs (NBC); and Huey, Dewey and Louie (DuckTales) and Michaelangelo (Teenage Mutant Ninja Turtles) from syndication. The purpose of the program was to make youthful viewers aware of the dangers of drug use, and was a joint production amongst the various studios involved, overseen by The Academy of Television Arts & Sciences, with the main animation provided by Southern Star/Hanna-Barbera Australia Productions and Wang Film Productions.
The plotline centers around a teenage boy named Michael, already struggling with drugs, who is pressured into using harder drugs by his unsavory friends. Also harassing him is Smoke, a malevolent symbolic representation of drug abuse, dressed in a business suit. Michael's younger sister Corey worries about him; her room is littered with familiar toys and merchandise. Through some form of psychic connection and mythical anthropomorphism, the various toys, books, and posters of licensed characters awaken to assist her. Once aprised of the situation, through a clinical definition by Chipmunk member Simon of the chemical affects of marijuana, other characters, apparently manifesting from thin air or from the labyrinths of network cross-promotion, join in.
This special notably marks the first appearance of Jeff Bergman as the voice of Bugs and Daffy; he would provide their voices in the first season of Tiny Toon Adventures later that year.
Voices
Jeff Bergman as Bugs Bunny and Daffy Duck
Townsend Coleman as Michaelangelo and Dad
Jim Cummings as Winnie the Pooh and Tigger
Don Messick as Papa Smurf
Danny Goldman as Brainy Smurf
Lorenzo Music as Garfield
Paul Fusco as ALF
Ross Bagdasarian Jr. as Alvin and Simon
Janice Karman as Theodore
Frank Welker as Baby Kermit, Slimer, and Smurfs
Laurie O'Brien as Baby Piggy and Mom
Russi Taylor as Baby Gonzo and Huey, Dewey and Louie
George C. Scott as Smoke