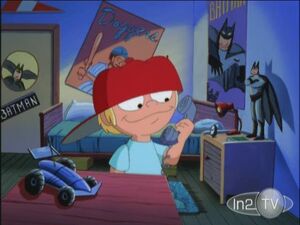 Batman is a DC Comics superhero who first appeared in Detective Comics #27 in May 1939. His true identity is Bruce Wayne, billionaire industrialist, playboy, and philanthropist. Witnessing the murder of his parents as a child led him to train himself to the peak of physical and intellectual perfection, don a costume, and fight crime. Unlike many other superheroes, he does not possess superhuman powers or abilities; he makes use of intellect, detective skills, technology, and physical prowess in his war on crime.
References
"Dance of Doom" - As Joe Leahy announces Cave Guy's appearance, he remarks that only one hero can stop him, and the camera to show a silhouetted Batman stopping a thug. "That hero is... on another network," Joe remarks. This is a reference to the fact that, at the time Freakazoid! premiered, Batman: The Animated Series was still on Fox Kids.
"Fatman and Boy Blubber" - Fatman's theme song is sung to the tune of the theme from the 1960s Batman TV series.
Other
Connections
Ad blocker interference detected!
Wikia is a free-to-use site that makes money from advertising. We have a modified experience for viewers using ad blockers

Wikia is not accessible if you've made further modifications. Remove the custom ad blocker rule(s) and the page will load as expected.