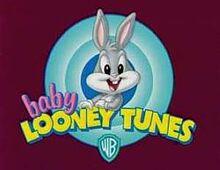 Baby Looney Tunes is an American animated television series taking place in an alternate universe depicting the Looney Tunes characters as infant versions of themselves. It was produced by Warner Bros. Animation. The show is similar to Muppet Babies, with the main characters taken care of by Granny. The
pilot of the show aired on June 3, 2001 on Kids' WB, The show premiered as a full series on July 28, 2001 and returned to WB stations usually before or after the Kids' WB! block from 2001 to 2003 and continued to air on Cartoon Network from 2004 until 2006 when the series ended on October 16, 2006 and reruns were on Cartoon Network were from 2006 to 2010.
Ad blocker interference detected!
Wikia is a free-to-use site that makes money from advertising. We have a modified experience for viewers using ad blockers

Wikia is not accessible if you've made further modifications. Remove the custom ad blocker rule(s) and the page will load as expected.